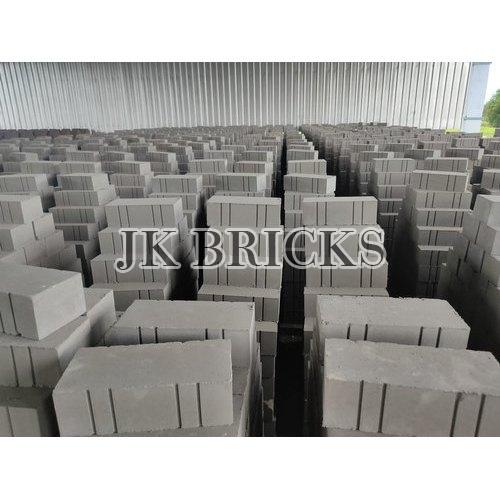 Rectangle Grey Fly ash brick is a building material used for construction works containing fly ash which is a very fine powder. Wondering what fly ash is and how it is produced? In thermal power plants, a lump of coal is burned to produce heat energy, further converted to produce electric power. The residue which is produced due to the compression of coal comprises fine particles and rises with a few gases like Co2 that are called fly ash. Other than thermal plants, fly ash is emitted from the industries where coal is used as fuel. In India, there are approximately 70% coal-based power plants that produce 40 million tonnes of fly ash every year.
The fly ash bricks are the most effective way to utilize the residue which can create environmental problems for air, water, and soil if not properly disposed of. This ash can lead to respiratory problems if inhaled. Therefore, using this fly ash to manufacture cost-effective bricks for constructing multi-story structures, high-rise buildings, warehouses, factories, and power plants.
The main composition of fly ash bricks is Fly ash, Cement, Sand, and Water in a proportion that may vary from place to place. Generally, the content of fly ash is more than 50% to produce a better quality brick.
The manufacturing process of Rectangle grey Fly Ash Bricks
Step 1: Mixing fly ash with cement, water, and sand in a fixed ratio to ensure standardization.
Step 2: Pouring mortar into the rectangular different sizes of molds.
Step 3: Drying in atmospheric temperature for 24 hrs and pressure.
Step 4: Curing and watering these bricks twice a day in chambers for 28 days.
Step 5: Removing when the fly ash bricks are ready.
Attributes and advantages of using rectangle grey fly ash bricks
Thermal properties
Grey Fly ash bricks absorb less heat in comparison to other types. It produces less amount of heat due to the pozzolanic reaction between fly ash and lime. Hence, it is suitable for subtropical regions where the climate remains hot and humid. It helps in keeping the building cooler in summers when compared to clay bricks.
Strength
The compressive strength of grey fly ash bricks is very high due to which there is no wastage or breakage during transportation and handling of bricks. Their mortar consumption is low because of which it has only 1% wastage. These bricks become more strong and offer great strength to your building and better resistance to earthquakes without causing any extra load to the design.
Uniform Appearance
These bricks have more uniformity in size and are denser than clay bricks. They have a pleasant cement-like color which makes these bricks attractive. Rectangle grey Fly ash bricks are free from cracks due to which POP or putty can be directly applied to the wall without any coat of cemented plaster.
Highly durable
These bricks are less porous which allows them to absorb less water thereby reducing dampness on your walls. This feature makes this brick in your building highly durable.
High tolerance
It has a high tolerance and resistance to mild forms of acid, water as well as sulfate.
Fire Resistance
Grey fly ash bricks have high fire insulation.
Economical
These bricks save the overall cost of construction by reducing wastage cost up to 2% during transit and water cost as it doesn't require soaking, only sprinkling is enough before the use. Also, plastering in grey fly ash brick saves you up to 15% along with reduced labor cost.
Eco-friendly
The manufacturing process of grey fly ash bricks does not require fossil fuel which allows them to come under the white category products. There is no such pollution or harm caused to the environment when compared to clay bricks which damage the topsoil. These bricks are made from the waste material that is released from the combustion of coal in thermal power plants. Using these bricks is a great step towards the development of a sustainable environment.
Sound insulation
It has been observed that the construction of a building using fly ash bricks provides good sound insulation.
Conclusion
If you are building a house or any other structure then choose a superior quality rectangle grey fly ash bricks which indeed is a better replacement for traditional clay bricks. There are many dealers in the market supplying Fly ash bricks that are widely known for their superior quality and green technology. Therefore, stop doubting and start using the fly ash bricks safely for the side as well as partition walls of any building.